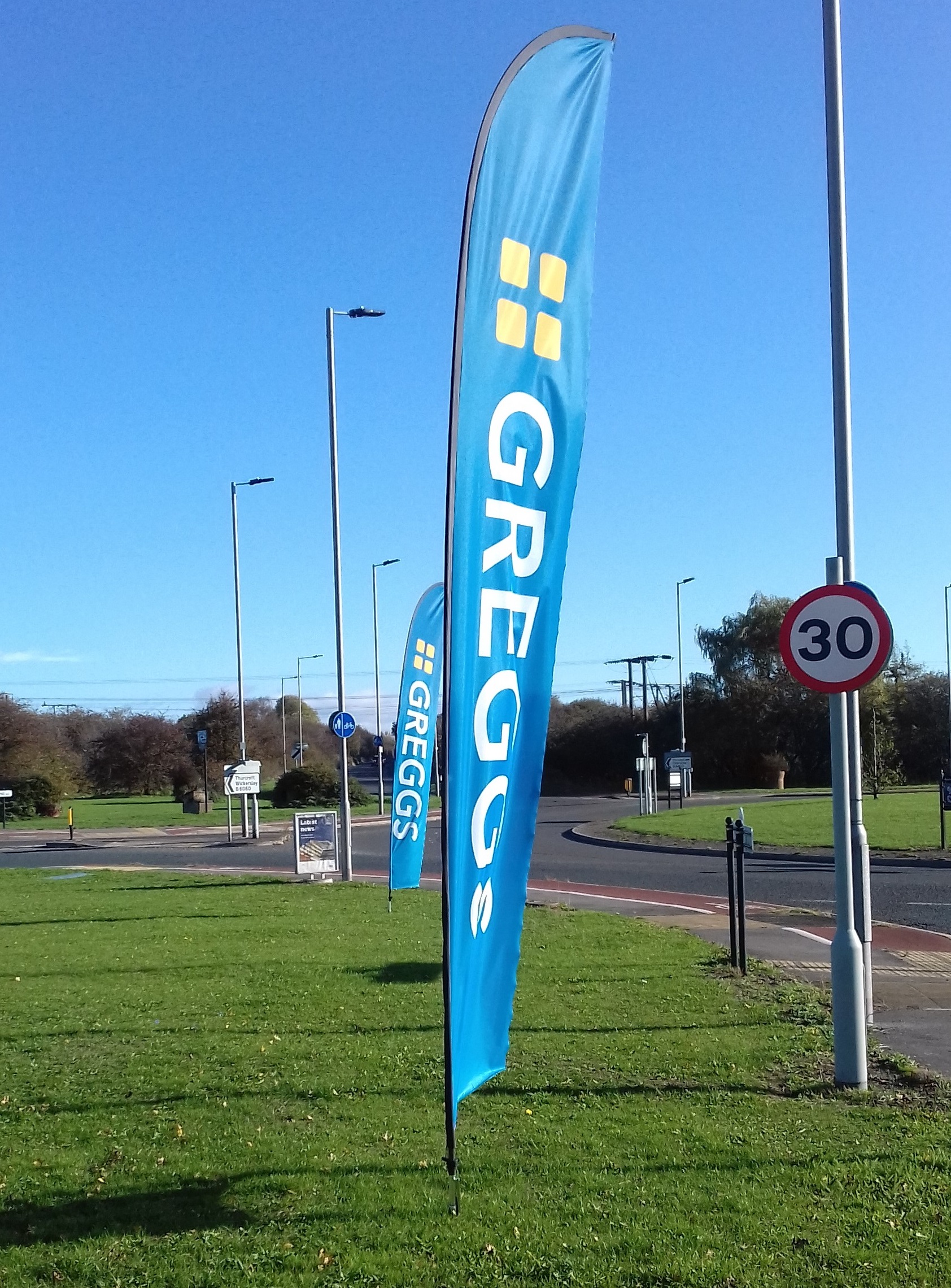 All of our feather flags for sale are custom printed to your bespoke designs. We also have a range of sizes for you to choose from and a wide range of bases, allowing you to display your feather flag in most environments, whether you want and internal or external display on hard or soft ground. We make sure our custom printed feather flags are produced to the highest quality, making sure that your display looks great and grabs attention.
Feather Flag Ranges
We have three different ranges available for our feather flag; budget, standard and premium. Each range offers different specifications and styles of flags, allowing you to choose the ideal feather flag for your display environment, including both indoor and outdoor displays.
Our flags are available in the following ranges:
Budget Range
Our budget range is cost effective and ideal for short to medium term displays. Our budget range is made from knitted polyester and have black or white sleeves. These printed flags use a flag pole made from lightweight fibreglass and do not include a carry bag. The bases available in our budget range do not include 360º spinners. (Our budget range has a minimum order number of 10 flags.)
Standard Range
Our standard range is ideal for short to medium term use and made from knitted polyester. These printed flags come with a self coloured sleeve and a 360⁰ spinner. The flag pole is made from lightweight fibreglass and the carry bag is included.
Premium Range
Our premium range is more durable, ideal for medium to longer term displays. This range uses printed flags made from polymesh which is a permeable material allowing wind to flow through the flag more easily. This range has self coloured sleeves and a 360⁰ spinner. The flag pole is made from lightweight fibreglass and the carry bag is included.
We also offer a range of different shapes, including teardrop flags and portrait feather flags. We are also able to produce double sided versions, allowing your promotional message be seen clearly from either side of the printed flag. Our feather flags look great when used alongside some of our promotional display products, including our roller banners.
Read More

Why You Need Feather Flags?

Most industries are not short of competition, which makes it more important to choose the right marketing materials to promote your business. Regardless of the event or occasion, when it comes to advertising your brand, you need to do whatever it takes to stand out from the crowd.

With our high-quality printed feather flags, you can rest assured that your brand's message and offering will be clearly visible to your target market. Our eye-catching feather flags are also available in a wide variety of sizes and ranges, allowing you to choose the products that best suit your display space.

Our feather flags are also fully customisable and made from great-quality knitted polyester or polymesh, depending on your chosen range. We also provide feather flag bases, flag poles made of lightweight fibreglass, and carry bags to transport and store your flags.

Choose our feather flags to make a lasting impression on your customers!

What Makes Our Products Special?

At House of Flags, we understand that different businesses require different types of promotional materials to advertise their products and services. With that in mind, we ensure that our promotional equipment is versatile and adaptable for various industries and display environments.

As experts in the field of manufacturing and supplying a wide range of promotional tools for businesses, we strive to ensure that our products are created to the highest standard with great-quality, durable materials.

From banners and signage to display stands and advertising flags, all of our products are designed to suit your needs. Our products are easy to assemble and dismantle, and we provide carry cases for safe transportation and storage.

With our marketing tools, we help you attract your customers, boost your sales, and effectively grow your business. Explore our wide range of promotional products to find the perfect match for your business.

Why Choose House of Flags?

At House of Flags, we have over four decades of experience in manufacturing and supplying a wide variety of eye-catching promotional products for businesses. As professionals in the field, we have gained essential knowledge about marketing materials and how they benefit various businesses.

With the expertise of our in-house print teams and graphic designers, we intend to provide you with exceptional and convenient-to-use promotional materials that can make an impact on your target audience.

We have worked with numerous industries, and our experts can tailor our products and services to accommodate your business' requirements, thereby offering a smooth and hassle-free experience.