Optimise Black Friday Performance With Promotional Displays
Are you looking to maximise momentum by mastering Black Friday marketing for your business? Well, you are in luck for this is very much possible all thanks to promotional displays.
Well-known as the ultimate shopping experience, Black Friday is the ideal playground for your business to flex its marketing muscles and score great sales. With the help of promotional signs and displays, your business can emerge as an absolute winner in bustling crowds and the competitive frenzy.
Move away from the plethora of discounts and monotonous sales messages by relying on promotion stands to convey your message. Your business can stand out in a competitive market with the strategic use of such promotional displays, increasing your sales this festive season.
Whether it's digital panels that showcase valuable information or tall billboards that announce amazing discounts, promotional displays are your brand's companion.
Ready to elevate your brand's presence and capture maximum attention with these promotional tools? Let's explore three Black Friday marketing strategies that will propel your brand to the forefront of this retail experience.
1. First Impressions Matter
As a business owner, you may already know that Black Friday is more than an annual shopping bonanza that offers slashed prices across products; it's a battlefield for brands competing for consumer attention.
That's why first impressions matter so much in this competitive market. With the help of promotional signs and displays, you can maximise your first interaction with customers. Typically, product displays in retail stores are what your customers use to gauge and understand your Black Friday deals.
Well-crafted displays are designed to leave an unforgettable 'first look' in customers' minds that resonates and eventually pulls them in. Essentially, the target is to halt consumers in their steps, have them look up, and above all, act.
Go for colourful and bold texts coupled with vivid images that match your branding style as well as the Black Friday theme. Leverage messaging that directly addresses the customer to showcase the extent of the deals you are offering.
Bear in mind, however, that your promotional stands must come across as more than just an advertisement and rather invite people in to discover and experience your brand.
2. Optimise Performance With Digital Displays
Amplify your in-store promotional displays with the help of digital displays. Digital promotional signs and displays are a revolution in today's era of digitalisation, especially when it comes to Black Friday marketing.
It is a platform that enables interaction and communication between your brand and potential customers. You can highlight your major deals on digital displays in real-time, providing consumers with a sense of urgency and exclusivity.
Additionally, they offer endless opportunities for creativity with the help of animated graphics, videos and even interactive touch screens giving personalised suggestions. To take things a notch further, maximise social media integrations for increased word-of-mouth marketing and wider promotions of the products and services among your customers.
Not only will this offer your customers a platform to share their experiences but also amplify your reach. What makes promotional signs and displays an effective strategy is its ability to offer an immersive and interactive experience that tells potential clients of your offers while keeping them engaged.
3. Maximise The Potential Of Outdoor Displays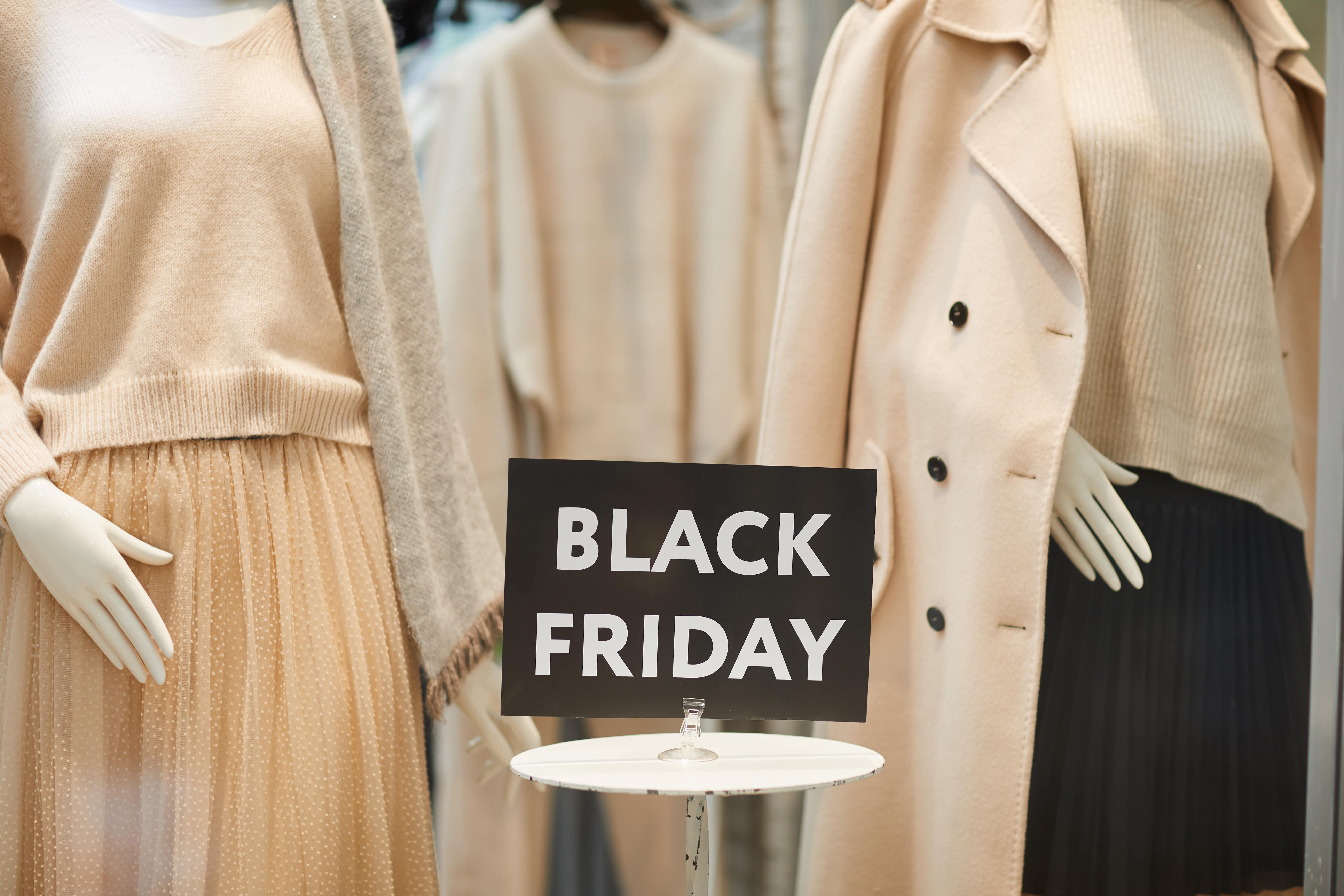 From tabletop promotional displays to in-store display advertising, promotional displays offer a plethora of opportunities for brands to maximise their reach on Black Friday.
In such cases, however, the importance of outdoor promotional displays should not be overlooked. For instance, billboards, banners, and posters can be used to effectively capture the attention of passersby and drive them into your store.
Set up your display strategically, where there is high foot traffic, as this offers easy accessibility and visibility. Moreover, concise and straightforward messages are a game-changer when it comes to your brand messaging as these can be easily read from a distance too.
Try employing eye-catching images and augmented reality tools to generate an impact in this direction. This is all the more helpful when you want to generate awareness about your Black Friday deals.
Remember, your brand is not limited to what can be seen in a store. With the help of outdoor promotional signs and displays, you are provided ample space to reflect on your brand's personality and maintain a unified branded experience outside your store too.
Trust House Of Flags For Promotional Signs and Displays!
Want to score big and attract maximum attraction from customers this Black Friday? Let our experts help you with effective promotional displays and signs.
House of Flags is your one-stop solution to all display and installation requirements with our wide variety of high-quality custom light box solutions.
In addition to this, our graphic designers help to tailor your display to complement your products. Our dedicated team of specialists can help you with any of your promotional display needs.
With years of experience in this field, we take pride in manufacturing and supplying a wide range of other promotional products to help you increase your brand awareness and improve visibility.
Check out our full collection and get in touch with us for more information.